I have been an avid thrifter for many years. I live for the thrill of finding that fantastic deal. You know, that deal that makes you let out a crazed giggle followed by an audible "are your serious" even when you are shopping alone? If you're a thrifter, you know the feeling.

I was lucky enough to have a cluster of thrift stores only a few blocks away at my last job. Every day I would eat lunch at my desk while working so I could hit up the stores for an hour during my break. It was my favorite part of my day. I would think to myself – If only I could make money thrifting?

Ruffling through the racks daily, I would find such great items, but not everything was in my size. Occasionally I would buy something that I thought a friend might like, but I wanted to find cheap fashion for the masses.

Every woman deserves to look fabulous without spending a ton of money, but most don't have the time (or patience) to dig through racks to find excellent quality, lightly used clothing for super low prices.

It was always my dream to open a thrift store with hand-picked high-end pieces. However, starting a brick-and-mortar thrift store flipping business is very risky financially. So, the dream got pushed to the wayside, and thrifting remained my hobby.

Fast forward to January 2016, a friend of mine introduced me to Poshmark, a platform where you can sell your clothing and shop other women's closets online. While checking it out the site, a lightbulb went off. Then, a ton of lightbulbs went off. Finally, a place to grow a business doing what I love!

What is Thrift Store Flipping?

Thrift store flipping is finding something that is undervalued, buying it, sometimes improving it, and then selling it for a profit. It can be done with home goods, antiques, vintage items, or designer items. I loved selling women's fashion and worked in a boutique for many years, so I went that route.

Starting an online thrift flipping business isn't much different from starting any other company. You need a plan, a budget, and a target audience to sell to. You'll also need a platform to sell on. Poshmark works best because of the type of inventory I'm selling, but many people find great success selling on eBay, Amazon, Etsy, etc.

Once I figured out where and what I wanted to sell, I tested the waters. Before sinking any money into my business, I sold clothing and accessories from my closet to raise funds. I know, cleaning out your closet sucks, but you have a ton of stuff you don't wear anymore, but plenty of girls would love to!

This trial period allowed me to learn how it all worked, who my audience was, what they wanted to buy, and how much they would pay. Then, after earning about $150, I decided to take that money and start buying inventory.

[subscribe]

Getting Down to Business

Once you are buying and selling goods – you are a business. You'll need to act like one. Set up a bank account to keep track of spending and profits. You can also sign up for online accounting software. I use Xero. You don't need to be a CPA to figure it out. It's super simple and easy to use.

You should also consider creating an LLC for your business to ensure you are filing your taxes correctly. But, again, it's different in every state, so check out the appropriate website or talk to your tax professional about this.

I didn't have an "official" business plan when I began. As I started selling, I learned what my profit margin needed to make it worth my time. If I'm spending 3 hours rummaging through racks every week, I want to see a 200% profit margin, minimum. I see higher profits than this most of the time, but sometimes I break even, so it all works out.

As you start making money, reinvest some of it back into the business.

This part was hard for me. It was great to see all the money piling up in my bank account when I started earning. But the business wasn't growing month over month. Finally, my husband convinced me to reinvest my profits back into the business. Then BAM! I started to see real growth.

Learn from my mistake and buy more inventory to ramp up business. In the beginning, it's essential to focus on increasing sales and allow you to continue to grow.

I also created a spreadsheet to help me keep track of sales, customers, profit margins, and all other kinds of data. In addition, I will soon launch a tool that will help analyze and keep track of all your sales and stats.

For my business, I like to have a quick turnover to keep my store fresh and people coming back to see what's new. If you sell high-end designer items like handbags, your turnover might not be as quick, but your profit margin will probably be much higher.

The cheaper you can get inventory, the cheaper you can make your prices, and the more people will buy from you. I'm not saying you should sell yourself short. You want to get the most value you can.

Finding Your Thrifting Mecca

Time to go shopping! You need to find your thrift store flipping Mecca, and it may take some time. When I started, I was solely shopping in NYC, which was awesome. People get rid of some fantastic stuff, but the price tags are typically higher. If I were shopping for myself, the prices would be a deal, but my profits were on the low end for reselling. I knew I could find cheaper inventory and decided to start exploring.

I went on Google maps and made a list of all the thrift stores a reasonable distance from my apartment. There is also an online thrift store directory to can check out. After making a few trips, I found the best stores where I could get the best deals for reselling.

Salvation Army Stores are my absolute favorite. They are typically huge stores, the prices are great, and every Wednesday, they offer 50% off everything (except for the week's color). So I leave with 40 plus items for under $100.

Good Will Stores also have sales of select color tags. However, I heard through the grapevine they removed most of that color from the floor so they could sell the total price items. Try going Sundays while some good half-price items are still on the floor. Mondays are also typically goo because the racks haven't been picked over yet, and you can still find some half-off gems.

What's In Your Cart?

On shopping days, I'm all business. Leggings on, headphones in, reusable bags in hand, I head over to the store and grab the biggest shopping cart. But, of course, the stores are crowded, especially on sales days, so there isn't any casual browsing. So instead, with my game face on, I throw everything in my cart that I want to consider purchasing.

I'm not kidding; grab everything you think might be good. If you pass it up, it probably won't be there when you go back. Don't worry about analyzing each stitch now; you'll do that later. You also want to know the value of what you are buying. If you see an unfamiliar brand, Google it. You might be pleasantly surprised. I've picked up dresses that retail for over $300 and didn't even know when I threw them in my cart.

Once you start selling used clothes, you will learn what your audience is looking for and how much they will pay. Know what you are buying. Even though it may be super cute, a used Forever 21 top for $4 is not such a great deal for resale. After some practice, you'll learn how to spot quality fabrics and brands from afar.

If you are selling on Poshmark, look for J. Crew, Madewell, and Anthropologie brands. These bring me the most profit. Stores like Anthropologie and Urban Outfitters sell many different brands – Maeve, Deletta, Florete, Moth, Moulinette Soeurs, and Sunday in Brooklyn. So it's good to familiarize yourself with these brands. Here are the links to the complete Anthropologie Brands and Urban Outfitters Brands list.

You can also check out the Anthropologie Style Archive to find images and descriptions of older items.

Review Your Findings

Now that you have a cart full of goodies, it's time to see what makes the final cut. I find a quiet corner with an empty rack in the store and hang everything up. Then, one by one, I look at each item carefully. They are used, and most stores do not inspect items thoroughly.

Nothing sucks more than bringing something home and realizing you can't sell it. Many things will be alright, but others may have items stained by tears or missing buttons. If it needs to be repaired, make sure it's worth the work.

Check for:
Stains – I've had luck getting most stains out with Oxyclean
Piling (balls) – If it's not that bad, you can shave them off with a disposable razor
Pulls – Try pulling them back through to the inside of the sweater
Broken zips – Usually not worth replacing
Missing button – Check the inside of the shirt or jacket for extras
Pit stains – They NEVER come out
Smells – Sometimes, they just don't come out
Missing bead work – Check for extras, but it still might not be worth the time
Hems – Easy fix if you can sew
Holes – Depends on the fabric. Small holes in sweaters are usually repairable. Check pockets!!
For each item, you have to ask yourself, How much can I make on this? If the top costs $3 and you think you can only sell it for a max of $9 after fees, is it worth your time to get it? It is listed. Remember taking great images and writing accurate descriptions takes time.
Let's Make Some Money
I have only used Poshmark for my thrift store flipping, so I can't speak for the other platforms. However, the one thing that does hold for any online store is having great images of your items. For Poshmark, the cover images are the most important. That's what will get people to your closet to shop and share.
I use my iPhone to take all my images. The camera and editing tools are excellent. Be sure not to edit; give them a little lift. You don't want your customers to be surprised when the red sweater they ordered is orange because you messed with the filters.
Check for style numbers. Brands like J. Crew and Madewell list the style number on the inside tag with the cleaning instructions. You can then pull the item listing from the site and use the images and description for your listing.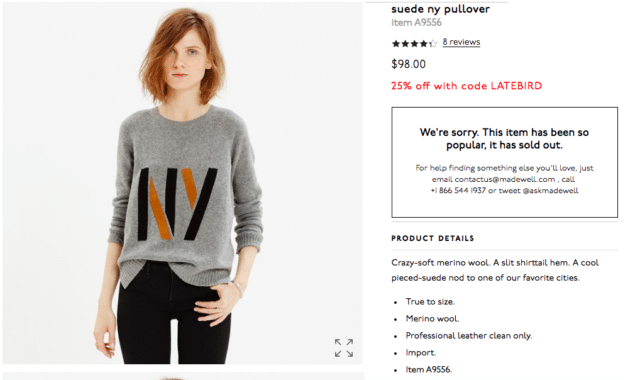 Be sure to put all accurate measurements in the listing. Since these items are used, you don't know if they shrunk or stretched. A sweater that once was a size ten could easily be a size four if washed improperly. Take many photos showing defects, damages, loose seams, loose threads, etc.
If you are interested in selling used clothes online and want to sell women's fashion, I would highly recommend Poshmark. It's easy to get started.
Happy Poshing!
Laura