Let's be honest. You have far more clothes in your closet than you will ever need. You could probably survive without doing laundry for three solid months and not run out of stuff to wear. So it's time you do a thorough sweep of your closet and take inventory of what gets worn and what is just taking up space.

You know that dress you don't love, but it was expensive and too lovely to donate? How about those 6-inch red patent leather heels? When was the last time you wore those, college? Although you might not have any use for them anymore, someone does! You have money hanging in your closet. It's time you sell your clothes for cash (or more clothes).

"I like my money where I can see it — hanging in my closet." ~Carrie Bradshaw

So, that is not the best financial advice, and most of us don't have a wall of Jimmy Choos, but all those clothes in your closet are still valuable. I have tried some other online marketplaces to sell my clothes for cash, but Poshmark has been the best and most fun by far! They made the whole process seamless, from listing your clothing to getting paid.

A friend of mine was raving about Poshmark a few months ago, so I decided to try it. I was instantly addicted. It is like running your online boutique. It took me a few weeks to grow my closet; however, I sold 114 listings within six months and earned $1,716.

I started by selling some of my things, but after making some money, I decided to invest in starting a small business using Poshmark. Before I tell you how I did that, let's get you all set up to start selling your clothes online.

What You Need to Know About Poshmark
Poshmark has a website, but their app is where it's at. You can view closets on the desktop version and like and share items, but you need to use the Poshmark App to do anything else.
How much does Poshmark take? There are no listing fees. However, Poshmark takes 20% of the selling cost of anything over $15 and a flat fee of $2.95 for anything under $15.
Buyers pay a flat fee of $5.95 for shipping. Poshmark will email you a shipping label when the item is sold. You have to print it out and tape it to the package.
Sharing is the name of the game. People who love your style will follow your closet, so any new items you list or share will show up in their feed, where they can then share it with their followers.
Poshmark now has a Make an Offer feature which allows buyers and sellers to negotiate on price directly. Some people might buy your items at the asking price, but most will make an offer on the thing, which you then have 24 hours to accept, deny or counter. You will probably get less than the listing price, so choose your original listing prices accordingly. If you are interested in pricing techniques, I will talk more about them in my course.
[subscribe]
Getting Started
Once you have downloaded the app, you will need to create an account. Here you will choose your username. As of now, this can not be changed, so choose wisely. Next, you can enter your clothes size, shoe size, and brands you like, allowing Poshmark to tailor your feed. Then you can find friends using your Facebook, Twitter, and phone contacts, so you can start growing you're following right away!
Once you are in, you will see five icons on the bottom of a red stripe. These buttons are essentially your main menu. Here is what each does from left to right.
Feed: Just like your Facebook feed, this is where you will see all of your follower's listings and shares, as well as new items listed in brands you follow. Here you can also access the Find People menu. You can find new closets by brand, location, and social media accounts. You can search directly for people too.
Shop: Here, you can shop for items by brand, category (pants, tops, etc. ), and "liked" things. If you like an article (heart it), it will be saved to a list to go back to later and possibly purchase these items. Most importantly, the shop menu is where you can access current and past parties. It's a great spot to share and be shared. Some showrooms showcase specific brands or styles.
Sell: This is pretty self-explanatory. Click on the camera to start a new listing. We'll get into this in more detail later on.
News: This is where all your notifications are listed. Any likes, shares, comments, offers, and sales will appear here. I like to keep notifications on so I don't miss anything, but if you are not into that, I recommend going into the app and checking a couple of times a day. You don't want any offers to expire or questions to go unanswered.
@reallycoolusername: This is where you can access your closet, profile, settings, payments, sales, and closet stats. You can check the delivery status of your shipments and, of course, redeem your cash! Some Poshers will leave you reviews after receiving their orders, and you can find those here too.
Just like any other boutique, you can have sales on Poshmark too. You can give discounts to people purchasing multiple items from your closet. It's called a bundle. For example, I give 10% off bundles of 2+ items. You can adjust your seller discount in this menu as well.
Step One: Clearing Out Your Closet
This might be the most challenging part if you like to hold on to things. I don't have an emotional connection to anything in my closet, but I know friends who do. If you are having a hard time getting rid of stuff, you might need some backup. Call a friend (or friends) to come over and help pry your favorite jeans from college out of your hands. Girl, you know you are never going to wear those again.
So what should you sell, and what should you keep? If it doesn't fit and hasn't in over a year, it is probably time to get rid of it. If it's not the right fit along those same lines, you should get rid of it too. We have all bought things that we think look great in the store, and after trying them on at home, we wonder what the hell we were thinking. It could be a fabulous dress. However, it might not be ideal for your body type. Don't worry; Poshmark will help you find a new home.
You may have some items that fit you great, but you haven't worn them in a while. If a "while" is over a year, I would consider selling it. When switching out my clothes for the next season, I always do a "clear out." If I didn't wear it once all season- see ya. You have to make space for things that will make you feel good.
Step Two: Get Listing
Now to the fun part! Once you have chosen the items you want to sell, it's time to create listings for them so other Poshers can purchase them. Then, you can access the sell button from anywhere in the app.
A few components make up a great listing, the most important being your cover shot. You can have up to four images for each listing, but your cover shot is the one that will show up in Poshers feeds. It is your item's first impression, so you want to make sure it looks great.
You can always take a photo of your item, but Poshers who style their items have a greater chance of selling them. Look at other closets to get ideas. Here are a few great cover shots, followed by some not-so-great ones. Which ones would you share?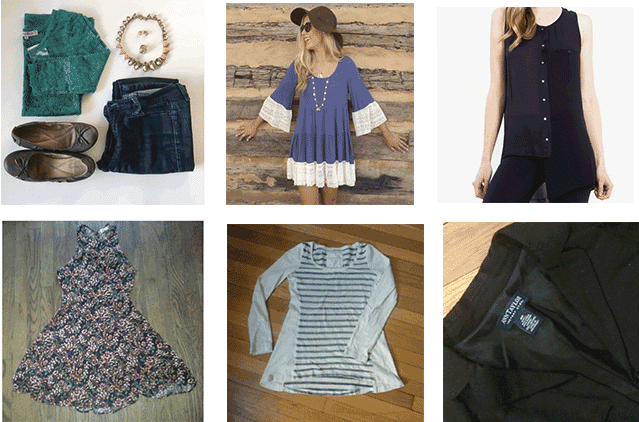 Clear and bright photos are crucial. Lousy lighting could make your items look old or dingy. You can take your photos directly from the Poshmark App, but they don't have any editing tools, just filters. I like taking pictures before listing and editing them on my iPhone. You can use your favorite photo editing app before uploading them to your listing.
You'll want to choose the right background for your photos so your item can pop. I  like to use a light or white background so textures and details can stand out. But, of course, you can also put those Photoshop skills to work and create a white background.
If you are not the best photographer or don't want to model the clothes (I hear you), you can look for images of the item online from the company website, Flickr, etc. I do this a lot. It allows me to get my listings up faster when I'm not spending 30 minutes trying to create the best cover shot. If you use someone else's photo, be sure to give credit where it is due.
Step Three: Write a Description
After you got your images up, it is time to write the description. You want to make sure you provide an accurate description. If you are selling pre-worn items, it's important to give potential buyers as much information as possible. Don't try to hide a missing button or small stain and risk getting a bad review. Plus, it's just not cool. Thoroughly inspect each item for tears, pulls, or stains and post it in the listing.
You want your buyer to know as much as possible, so they feel comfortable purchasing it without seeing it first. Start by carefully inspecting the item and describe what you see. Where is the zipper? Are there pockets? What is the fabric? This will help potential buyers better understand what they see in the photos.
Sometimes, the shape can be hard to make out in images, so try to describe the fit and cut as accurately as possible. I don't do this as much as I should, but it is good to include measurements, including waist, chest, length, and inseam. People will ask you for it anyway, so you might as well do it.
The key is to include everything you possibly can about your selling item.
Step Four: Be Social
Now you want to start growing your network. Sharing your closet and other Poshers closets will help you grow your following pretty quickly.
More followers = more shares = more sales.
You will start getting followers as soon as you join, but you must stay active in the community to keep it growing. I spend a few minutes each day going through my feed and past parties sharing items I love.
I also recommend sharing items from your closet twice a day. This will help keep your listings at the top of the feeds. For example, if you shared your J. Crew dress 4 hours ago, it has a much better chance of being discovered by a potential buyer than it was shared four days ago.
Build an audience by sharing your listings at a Posh Party. There are a few at different times of the day, so I can always find a few minutes to participate. Many users log into the app during these parties to shop and share listings, which are a great chance to get some shares. When other Poshers share your listings, go in their closet and share some of theirs. Many times it will lead to a follow or even a sale!
It's all pretty simple once you start playing around in the app. I bet you will find yourself addicted in no time. If you haven't signed up for Poshmark yet, use the code JPFCU and get $10 when you download the app!
Happy Poshing!
Laura