23 Excellent Yoga Gifts For Any Yogi in Your Life
No matter what stage of practice, these yoga gifts will put a smile on their face. If you are trying to figure out what to gife someone who loves yoga, below we have some great yoga gift ideas that any yoga lover would be excited to open.
Log out, shut down, do yoga! This large yoga tote is the perfect carryall for all of your yoga essentials! Tote your yoga mat, towel, water bottle and purse in this oversized 22 by the 15-inch bag! Canvas Co totes are made with sturdy and beautiful cotton canvas and a custom yoga design. 100% Cotton Canvas Interior and Exterior with Leather Straps.
This handmade wood yoga storage mat shelf is wall mountable and a perfect addition to any yogi home. You can hang your, sweaters or market bags too. It has a shelf that will hold your accessories and this one has the green glass vase included to display your favorite flower. All boards are carefully cut, sanded, stained or painted. 
Yummi Yogi's Yoga Cutting Board is designed in the shape of our favorite Tree Pose, representing strength and balance. Made of ash wood with an exclusive driftwood teak oil finish. This top quality board will last for many years to enjoy! 
Soothing Soak. A Sanskrit term meaning "wheel" or "circle," chakras represent the seven specific energy centers found in the body. From the crown chakra that assures a calm piece of mind to the root, offering a grounding in positive energy, addressing each point is thought to provide balance and inner peace. Indulge their own chakras with this shea butter bath salt set, featuring seven aromatic varieties blended with essential oils and tinted with all-natural micas for a beautiful glow. 
Artful Asanas. Help them show devotion to their practice with this stylish set of marble coasters featuring familiar yoga poses. Illustrated in silhouette, each pose is accompanied by its name in English and its Sanskrit-style asana name. Thoughtfully detailed with cork covered bottoms to prevent table scratches, the coasters are handmade.
Even for those who don't practice yoga, this is a really cute bag. Great for the yogi with a busy schedule. They can keep this case in their yoga bag filled with extra hair ties and stuff to freshen up after class. Also great for those who travel. This will be a big hit at their yoga retreat!
Every calmbox is packed full of mindfully curated items like music, books, candles, personal care items, yummy snacks, motivational reminders, and so much more, to help you unwind and relax. They find a new theme every month, such as meditation, stress relief, or living in the present moment, and deliver a box to your door to help you live a calmer, more peaceful life. A portion of proceeds of every box is donated to charity.
Balanced Bangle. Said to target your body's energy centers, the seven chakras are represented in this energizing bangle by a rainbow of gemstones paired with brass beads made by women in Kenya. Layer this bracelet with your other favorites for a unique look or wear it alone as a standout statement piece. Each chakra is represented by its corresponding gemstone.
Lovely handmade incense holder is a great gift for those who love yoga or meditation (or both). The lotus flower design symbolizes purity of the body, speech, and mind as while rooted in the mud, its flowers blossom on long stalks as if floating above the muddy waters of attachment and desire. It is also symbolic of detachment as drops of water easily slide off its petals. The holders are first bisque fired and then glaze fired. Then the 22k gold luster is added to it and fired a third time. 
When stress can bring us to our melting point, a piece of chocolate can be just the thing to keep us together. As a former Wall Street trader, Alak Vasa found out about the sweet's super powers first hand and could count on the treat to lift her spirits on stressful days. Around the same time in her life, she was introduced to Ayurveda, a sister science of yoga that focuses on inner and outer well-being. Blending these two dimensions of comfort, her small-batch bars feature luxurious chocolate infused with superfoods that are said to balance the five elements of the body. 
This dinner set is beyond awesome. Yoga girls Giving a full positive energy set contains an ear bowl, glass cup, flat plate, deep dish, chopsticks and spoon with an interesting yoga design. How can you better remind them about healthy eating and exercising if not with this beautiful dinner set?
Yoga Glass Cabochon Fridge Magnets are a fun gift for Yogis. Set consists of 4 yoga-themed magnets, perfect for gift giving, stocking stuffers, party bag fillers, giveaways or gift for yogi friends. You can choose a color set or mix and match.
Jewelry can get in the way when practicing yoga. Give them a safe place to keep their favorite pieces when they are taking class. This ceramic dish with a cross legged yogi in the center is great for rings and other small jewels.
Meditation Inspiration. Create tranquil ambiance in your bedroom, office, or favorite yoga spot with this inner calm-inspiring print from an original watercolor by Lindsay Satchell. It features a serene blue yogi in Sukhasana – or "easy pose" – with hands clasped over the heart in a Namaste gesture. Lindsay's prints represent offerings of gratitude inspired by her yoga practice. 
Set the right mood for their morning sun salutations, intense Bikram, or restorative Vinyasa with Amina Ahmad's hand-poured soy candles. They're scented with essential oils and have recycled, paper-braided wicks that burn clean and bright, filling rooms with evocative aroma blends. Savasana (lavender and eucalyptus): a calming and cleansing blend to help you rest and rejuvenate. Soothe the Soul (aloe and green tea): a blend with a delicate, earthy scent to enter the mind and mellow the mood. Warrior (sweet orange bergamot): a powerful blend to stimulate the brain and give you a fierce sense of purpose.
Waddle towards Nirvana with these charming mugs by Patricia Carlin. Four meditative penguins find their own sense of calm on white ceramic, then encourage you to do the same with a different zen proverb printed on the inside of each vessel–a "tongue-in-beak" way to send your stress to the South Pole. Be: Do not fear the shark if your feathers are dry. The Mugs read Breathe: If the ice cracks and no one is there to hear it, does it make a sound? Fly: Flight is not confined to the sky. Meditate: What is the sound of one flipper flapping?
Suspended Meditation. Invite the calming principles of asana into your home or yard with these serene hanging sculptures by Catherine Murphy. Two mindful yogis execute the tree and lotus poses, rendered from shaped and welded copper with patina that's lacquered for preservation. Hang them in a window, doorway, porch or garden as charming reminders to infuse your surroundings with your practice. 
Send them on a journey through the self with Six Piece Yoga Set! This yoga and pilates mat is a full 1/2″ thick and is one of the thickest mats on the market! It features specially designed memory foam offering superior impact absorption and comfort. Provide support and balance with our durable foam yoga blocks and deepen your stretch with our 6.5ft yoga strap that allows for better extension of the body.
Sippable Asanas. If you're feeling a bit downward dog, get into a comfortable chair pose and sip these invigorating caffeine-free teas. The Berlin-based maker strives to bring back the original magic of the tea blending tradition while adding contemporary aromatic twists. Hand-blended by a team of German tea enthusiasts, the set comes beautifully gift boxed with two bright, batik-inspired tubes. Namaste.
Army of Ohm. This troop's mission? To keep inner peace. Designer Dan Abramson looked to a favorite childhood toy to help inspire grown-ups to get into yoga. Armed with a general knowledge of the practice, this platoon of posing servicemen show off their secret weapon: major strength and flexibility. Give the battalion to the disciplined yogi or well-balanced lieutenant in your life, or keep them in your barracks as a reminder to soldier on through your basic (yoga) training. Packaged in a "mini yoga studio" box with a bamboo floor.
There's nothing more beautiful than natural movements that make us stronger. Legs that leap, arms that swing, backs that bend. So why not toes that wiggle and spread? It's the way nature designed them to move. A five toe sock design helps spread your five toes – reinforcing what yogis have known for years – that spreading your toes creates a broader foundation on which to balance.From a small garage in Los Angeles, they created the original five-toe grip socks to help people during barefoot fitness classes like yoga, Pilates, barre and dance.
This a great way to tell any yoga you think they rock.  This is a free-standing block that they can put on a dresser, shelf, night table, window sill…or wherever. It's great for a friend or to thank your yoga instructor for being awesome.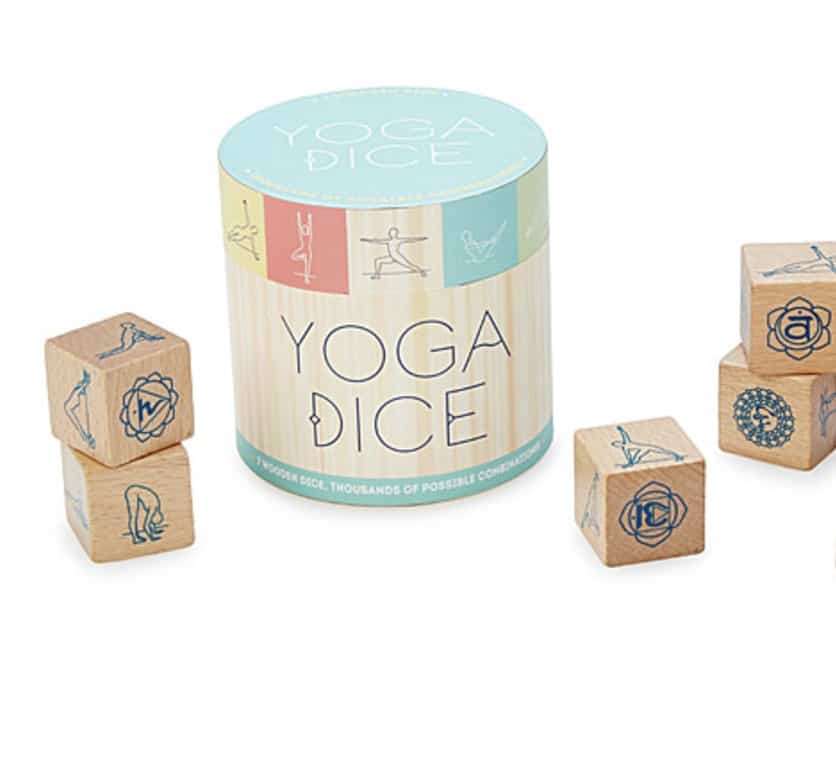 Ohm at Home. No matter what stage they are in their practice—from Master of the Wounded Peacock to Still Sorting Out Child's Pose—this set of dice makes posing fun and easy. Turn your living room or yard into an unintimidating practice space, roll, and slowly hold each pose for about six breaths. No matter what you land on, you'll work through the seven asana categories including sun salutation, standing, balancing, seated, forward bend, and core. It's an accessible way to deepen your experience and encourage the element of surprise.