I have been a Posher for almost two years now and use it to buy and sell used clothing. I even started a thrift flipping business on Poshmark that I run primarily on my phone…in yoga pants…from on the couch.

Anyway, I've had so much luck with Poshmark in the last couple of years, so it kind of hurt when I started seeing all negative Poshmark reviews! It was like reading a bad review on Yelp for your favorite restaurant.

After 800+ sales and a bunch of excellent purchases, I want to share my two years' worth of personal experience and give my honest Poshmark review.

What is Poshmark?

Here's a quick rundown if you have no idea what Poshmark is. It is an online marketplace for buying and selling women's, men's, and children's clothing. The platform is simple, easy to use, accessible than eBay, and safer than Craigslist.

It strongly emphasizes community, making it a sort of social media platform. Like other social platforms, you want to grow your followers by sharing your listings and others people's listings.

I won't get too detailed on all the ins and outs here, but if you are looking for an easy way to sell clothing online, I explain how to get started with Poshmark.

Is Poshmark Legit and Safe?

Yes, Yes, Yes! Poshmark has been around for six years now, making it a well-established online business. However, it's not a fly-by-night company with over 25 million items and 5,000 brands. I've bought so many great things from their app and only had great experiences.

If you want to buy higher-end items for great prices, Poshmark is the place to go. They offer free item authentication on all items for $500 or more with their Posh Concierge service. This is extra verification on pricey items, so you don't have to be worried about buying a knockoff.

Giving your address to a stranger over the internet is another concern some folks have – and totally, I get it. I was a little nervous about this at first myself.

You will have to provide your name and complete mailing address to generate shipping labels. There is a risk involved when giving randos your address, but I've never had a problem. We have to trust your fellow humans.

Sometimes some Poshers seem a little fishy – asking weird questions or making strange requests, so if you feel concerned, check out their profiles before accepting any order. You can see all the reviews they have gotten and given if you view their profile.

Overall, Poshmark has excellent protection for both buyers and sellers making it a platform that you can shop on with peace of mind.

Not only is Poshmark legit and safe, but it's also an excellent place to buy and sell clothes online. Using Poshmark, I grew a business that I'm passionate about, scored multiple pairs of my favorite jeans that are now discontinued, and got four pairs of perfectly new boots for under $100 total.

Pros

Easy to use

Of course, it's easier to buy on Poshmark than it is to sell. The app walks you through the signup process, asking you to choose your favorite brands and your sizes so they can customize your feed displaying only items that will fit your size and style.

You eventually will find other Poshers who have the same style and are the same size as you. They also make it easy to interact with the sellers and negotiate the price with their Make an Offer button.

Poshmark also gives buyers time to cancel a transaction if they regret their purchase. You know, the ones you make after drinking a few too many mimosas? Again, no judgment; it happens to the best of us!

Selling is a little more time-consuming but, overall, a straightforward process. You can list it on your phone or computer. It takes only a few clicks to list an item. Just snap some photos of the thing you want to sell, upload them, fill in a description, brand, color, size, set the price, and you're done!

Remember, it's all about great cover photos and detailed descriptions.

Upgrade your wardrobe for cheap (or free!)

Bored of everything in your closet but don't have extra cash to get shopping? You are not the only one. One of the best ways to save your budget, save the environment, and satisfy your shopping itch is to buy second-hand.

Remember, one man's trash is another one's treasure. You may not wear that slinky black lace dress from your sister's bachelorette party ever again, but Sarah in Denver is looking for a fun dress for her friend's 30th birthday bash and doesn't have a lot to spend.

Go through your closet and get selling! Before you know it, you'll have a bunch of money to buy other pre-loved items on Poshmark or cash out and have the funds directly deposited into your bank account.

There are so many great deals on Poshmark from spankin' new to used. For example, on average, I give 73% off the original price.

Seller and buyer protection

When you purchase something on Poshmark, your account will be charged right away. BUT, that money does not go to the seller right away. Poshmark holds on to the money until you have accepted and reviewed the order.

Once received, you have 72 hours to review the item and raise a case against it. So, let's say you bought a coat and when you get it you see that the zipper is broken. If the seller didn't tell you about the damage, you could open a case with Poshmark to dispute the purchase.

Accepted Returns:
Undisclosed damage
Incorrect or missing item
Item not as described
The item is not authentic
Not Accepted:
Item does not fit/changed mind
Trades and Offline Transactions
If you don't accept or make a case for the item within 72 hours, Poshmark will automatically release the funds to the seller. I've had a few instances open for orders, and all except for one Poshmark favored with me. The one return was 100% my fault because I listed it as the wrong size.
It has never happened to me, but if a package goes missing or damaged packages, Poshmark will take care of claiming a refund from USPS.
One-click payment
Getting paid is so easy with Poshmark. You can withdraw your earnings anytime you'd like directly from the app. Just click on the $ icon at the top-right of the screen. Next, tap on Redeemable on the menu, and from there, you have the option to redeem via Bank Direct Deposit or Check Request.
Voila! You're paid. It's that simple.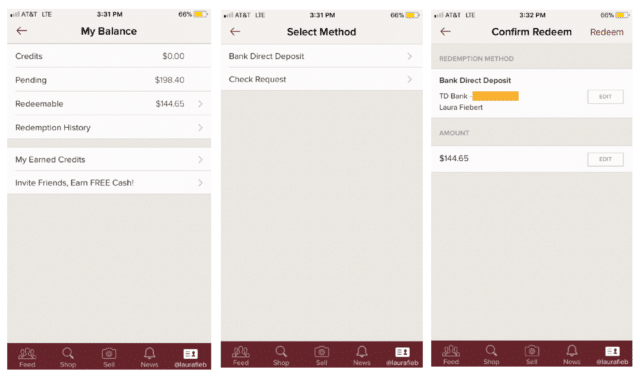 Cons
Poshmark fees
Posh fees suck. They really do. At a whopping 20% and a flat fee of $2.95 on items under $15, it's much higher than eBay and fee-less Craigslist. So, you need to price accordingly. If you want to get $100 for a Rebecca Minkoff bag, then don't initially list it for that price. I need to leave room for negotiation, price drops, bundles discounts, and of course, Posh fees.
Shipping costs can be high on specific orders. If you buy a tank for $15, the shipping is $6.95, which is almost 50% of the price of the item itself. This has deterred me from buying certain items. Plus, a tank is so lightweight it would otherwise be cheaper to ship.
On the other hand, I've also had orders that the Posh prepaid shipping wasn't enough. It's $6.95 even if someone buys three sweaters and a pair of boots from you. Also, the Poshmark shipping labels only cover up to 5lbs. If your order weighs more than that, the extra cost comes out of your earnings.
This has only happened to me three times out of 800 orders, so not that big of a deal.
Lowballers and Trolls
You get an alert that someone has made an offer, and you get excited only to find that it's a $12 offer on an item you have listed for $50. Lowballers are the worst. I am open to suggestions and price my object as such, but sometimes people ask less than half the asking price. If you aren't available to negotiate, write Final Price or Price is Firm in your listing.
99% of Poshers are fantastic, but there are some not-so-great ones. There are the ones who ask 1,000 questions and never buy, there are the ones who try to buy it off of the Poshmark platform, there are ones who don't mark it as received, so you have to wait to get paid, and last but not least, the ones that give you a low rating for no apparent reason what so ever.
And the creepiest of them all -the men who created accounts under women's names and ask you to "model" stuff. Yeah, make sure you check out profiles before modeling anything. If they have no reviews, no picture, and nothing in their closet, tell them it doesn't fit.
Not enough data provided
This one doesn't matter for most people who buy and sell on Poshmark, but they provide you with no data if you are trying to run a business on the platform. For example, I have no idea what day is the best to list, what price point works best, how long it takes me to sell an item, what brands I sell the most of, what size I sell most, etc.
This would be valuable information for me to grow my business and sell more on their platform. But for now, I am stuck with a shitty spreadsheet.
Make the most out of Poshmark.
Even though there may be a few bad apples, most poshers are fantastic. Like I said earlier, I have only had one return, meaning the other 112 sales went tremendous, and I was paid as expected.
I've always felt safe while interacting with people through the app, and I have always felt like Poshmark had my back. After all, they make money when we make sales, so they want us to succeed!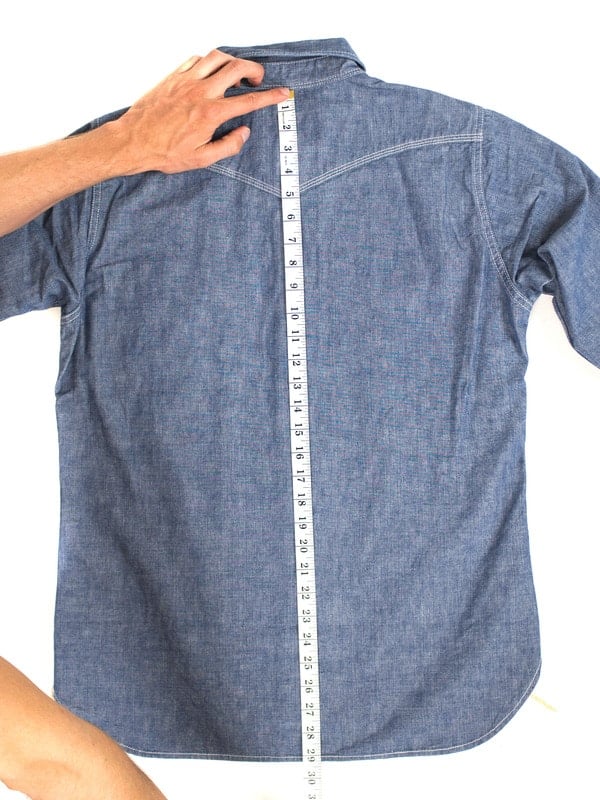 Remember, it's second-hand. Unless it's boutique or listed as new with tags, these items are used. They aren't going to be perfect.
Ask questions. If you are seriously interested in something, ask questions. For example, ask about fabric content if you don't want to be bothered with the dry cleaner. Ask about the fit. Maybe you have wide feet, so if a show is on the narrow side, it may not work.
Check measurements. If they post up sizes of an item, get out your measuring tape and make sure it fits! It may be annoying, but it is better than being disappointed when it comes in the mail.